T-Shirt Tzitzis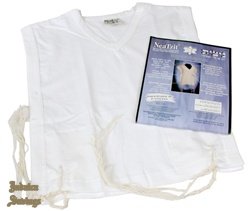 See Size Guidelines
The popular NeaTzit tzitzis includes the following features:
Pre-Shrunk 100% Cotton T-Shirt Fabric
Keeps you warmer in winter, cooler in summer.
Wrap-Around Tailoring
Moves with you to remain invisible under your shirt.
Form-fitting design will never ride up, bunch, or gather. You'll look fresh and composed all day!
Garment comes with machine made tzitzis.
Patented Side Snaps
Invisible high-quality stainless-steel snaps create a truly contoured garment.
Exclusive Tuck-In Tzitzit Pockets
For safe laundering and long wear
Reinforced eyelet stitched holes
Perfect weight for durability and comfort
Attractive packaging, perfect gift for the man who has everything
Availability
Not all sizes are available all the time. Please call for availability.
Updates
April 26, 2010

Size #24 is now available.

January 25, 2010

Size #24 is temporarily not available.

November 29, 2009

Size #28 is now available.
Show/Hide previous updates
The Neatzit garment design is now proudly endorsed by the OU organization! NEATZIT garments meet the strictest halachic criteria and has earned the endorsement and praise of Gedolim such as Rav Ovadia Yosef, Rav Chaim Pinchas Sheinberg and Rav Nissim Karelitz. NEATZIT strings are carefully tied under strict Rabbinic supervision.
Only the original patented NeaTzit brand garments are designed in a contemporary fashion and are made with pride using only top quality 100% cotton jersey cloth and machine washable strings. The soft knitted fabric breathes and keeps you cool in the summer and warm in the winter, will not wrinkle and needs no ironing. Patented snaps at the sides keep NeaTzit neat and in place. NeaTzit is specially sloped at the shoulders so it fits exceptionally well. NeaTzit may be worn over the undershirt as traditional tzitzit are worn, or without an undershirt, if you prefer. Pocket-like openings in the corner patches provide for convenient no-tangle washing of the strings. You will always feel super comfortable with NeaTzit.
Quantity Orders
Get great discounts when ordering 5 or more pairs. Get even greater specials when ordering 10 or more. Simply add the quantity to the cart, and watch the price plummeting...
See discount schedule.