Available in Small, Medium, and Large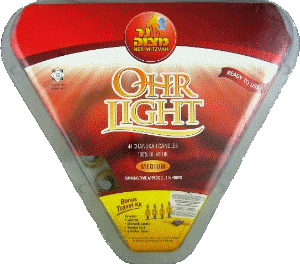 Larger Photos | Close-up | Safety Warnings
You can now light the Menorah the way our forefathers did, with pure olive oil, without the mess and the hassle of preparation!
These oil cups will fit on your Menorah hassle free, no filling or preparations needed, just unscrew the top and light.
The Ohr Light Pre-Filled oil candles has been proven by hundreds, to be the ideal Chanukah Candle lighting method.
It's Conveniant Packaging of the Pre-filled glass and wick supplies you with everything you need, leaving you with no toil and no mess from oil!
With Ohr Light Candle Lighting this Hanukkah will deffinately be a lot easier Cleaner and more enjoyable.
Included in each package is a pack of 8 matches (for the 8 nights), Shamash, Berachot, and a disposable Menorah.
These prefilled oil cups have been specifically designed for customers using standard candle Menorahs with cup sizes that would only fit the standard Hanukkah candles. Please note that each cup is 1 inch in diameter and the Menorah needs the room in width to fit the cups. (All Menorahs totaling around 10" in width will have no issues.)