Available in 3-Hour and 4-Hour Versions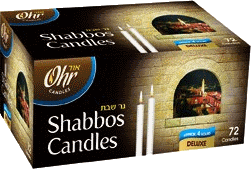 Traditional white taper/chime candles for Shabbat candle-lighting.
Set of 72 white taper candles, burns approximately three (3) or four (4) Hours
Taper Candles add elegance and sophistication to any formal event, especially to the Shabbat-table. Whether it be at a wedding, or a reception table, taper candles provide just the right amount of textured lighting for a dramatic presentation. Taper Candles make the perfect tabletop light for upscale restaurants and parties.
These taper candles have 100% lead free wicks and fit into any standard taper candle holder.
Non anointed; Non scented. Grace any room in your home.