טלית קטן\ציצית גופיות - ספרדי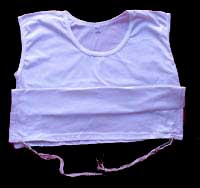 T-shirt (tee shirt) style Tzitzis with stitched down sides
The popular PerfTzit tzitzis includes the following features:
Custom-made Tzitzit-strings according to the Sefardic custom
Wears like an undershirt.
Features a wide round neck
Pre-shrunk 100% Cotton T-shirt fabric for winter and summer comfort.
No-Frey Tzitzit-strings.
Tzitzis tucks into special pockets for safe and easy washing.
Great for sports.
Very comfortable; You'll feel fresh and composed all day!
Comfort and Neatness - All in One garment
Made in Israel, meeting the strictest standards of Jewish Law. The tag attached is provided by the manufacturer and certifies it as Kosher.
Read about the brands and Hechsher.
Custom Orders
The following additions, make it a custom item. Custom items may take a few days to assemble, and cannot be returned or exchanged:
Thick Tzitzit
Any kind of Techelet (תכלת)
Menupatz Lishmoh (מנופץ לשמה)
Kesher shel Kayama (קשר של קיימא)