טלית המפואר דלוקס עם פסים לבנים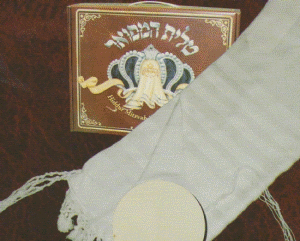 The Tallis HaMefoar is known to be the most comfortable Tallit ever produced. It also features a special weave to keep it from slipping off your shoulders. But while most non-slip weaves are coarse, the Tallis HaMefoar is smooth and pleasant to touch.
Everything you've expected from a Talis, they've included!
They've employed the ultimate in state-of-the-art technology at the world famous Talitania factory, and spared no detail, resulting in a Talis you'll be proud of for generations.
The finest quality yarn is exquisitely textured to ensure no slippage from your shoulders, and provides you with a brighter and lighter Tallit.
The Kanaf are made from the same material as the Talis itself. Our Talis Hamefoer also features no-fray Tzitzis; they won't unwind, separate or become fluffy.
All this and more, to make sure the Talis Hamefoer is one you'll cherish for years to come.
Special Features
Special anti-slip weave keeps the Tallit where you want.
Lighter weight comfortable.
Exceptionally beautiful weave. True Hiddur Mitzvah.
Kesher Shel Kayama / קשר של קיימא prevents Chillul Shabbos.
No-fray Tzitzis.
Matching wool corner-patch.
Matching sideband made of the same wool material.
Deluxe
What is deluxe? Deluxe define the pattern; The deluxe Tallit has the special weave alternated.