Includes Matching Bag and Kippah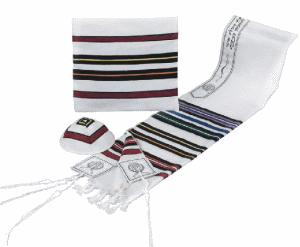 Sometimes referred to as the Joseph's Coat Tallit, this colorful Bnei Ohr Tallit features vibrant color schemes and ornate corner reinforcements.
Available options are available for the Bnei Ohr Tallit. We can add a a Beracha-Atarah, lining, sideband and middleband. The Tzitzit-stringss could be anything from plain white machine-spun to hand-spun, and from thin to thick. From Menupatz Lishmoh to Techelet (blue).
Also available in blue, grey/maroon/gold and grey/silver versions.
Read the remarkable legend behind this fabulous rainbow Tallit