Available in 3-Hour, 4-Hour and 6-Hour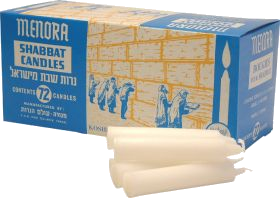 Traditional white taper/chime candles for Shabbat candle-lighting.
Taper Candles add elegance and sophistication to any formal event, especially to the Shabbat-table. Whether it be at a wedding, or a reception table, taper candles provide just the right amount of textured lighting for a dramatic presentation. Taper Candles make the perfect tabletop light for upscale restaurants and parties.
These white taper candles, are made of paraffin, and fits into any standard taper candle holder.
Each white candle is approximately 3.75" long. Made with pride in Israel.
The box artwork may be a bit different than what is here, but the candles are exactly the same.