ציצית מיוחד, כפול שמונה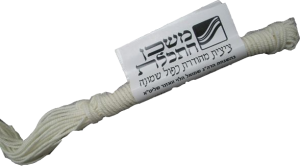 Nice strings for your Tzitzit, machine-spun from 100% high-quality wool. Kaful Shmoneh/כפול שמנה Tzitzit/ציצית.
Each pack has a certificate of Authenticity and Kashruth.
Each set, has a supply of a full cloth/בגד. It has enough strings for all four (4) corners.
Buy bulk for wholesale prices: View quantity discount prices
P.S. Brand and packaging may vary.