Recipes, tips and techniques to make anyone a better cook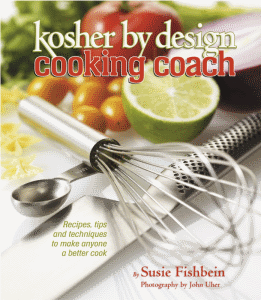 Have you ever wished Susie Fishbein could be with you in the kitchen? Now she can! In Kosher by Design Cooking Coach the celebrated cookbook author and international kosher food expert shares her homegrown secrets for creating magical results - as if she were right there with you! Whether you are a well-seasoned gourmet or cooking novice, Cooking Coach is brimming with great ideas to help everyone be a more creative, confident, and independent cook.
120 superb new recipes
Over 400 vivid full-color photographs
Comprehensive cross-referenced index
Kosher by Design Cooking Coach is more than "just another cookbook". In the Game Plan sections, Susie reveals many of her time-tested top methods for preparing and serving amazing foods, including:
Equipment Selecting your kitchen essentials; stocking your kitchen.
Appetizers Plating and garnishing techniques; balancing portions.
Soup Spicing, simmering, blending, and cooling soups; preheating soup bowls.
Salad Choosing lettuce and dressings; prepping salad components; the art of herbs.
Poultry How to butterfly and spatchcock poultry; cooking options; how to be a master carver.
Meat Pictorial guide to cuts of meat; seasoning and marinades; pan selection; roasting and baking tips; slicing and serving.
Fish Recognizing types of fish; selecting and prepping; cooking techniques.
Pasta/Eggs Identifying types of pasta; achieving "al dente" results; perfecting hard and soft-boiled eggs; whipping egg whites.
Side Dishes Storing fresh produce; great grains; chilies and chili sauces.
Dessert Must-have ingredients and equipment; creams and sugars; subtleties of chocolate and vanilla; fruit grilling and roasting.