Lightweight; Wholesale Pricing on Quantity Orders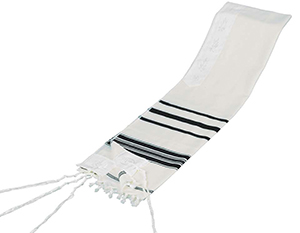 This beautiful Tallit is made of traditional white wool with black stripes.
Made in Israel by the Talitnia company, meeting the strictest standards of Jewish Law.
The Tzitziot were tied lishma. A Kosher certificate is attached to the tallit label.
Available in all sizes and half-sizes.
Colors
The colors that you see on this page, are digital and may be different in shade and color, or seem different.
Packaging
This Tallit does not come with any Tallit bag. It is enclosed in a plastic bag.